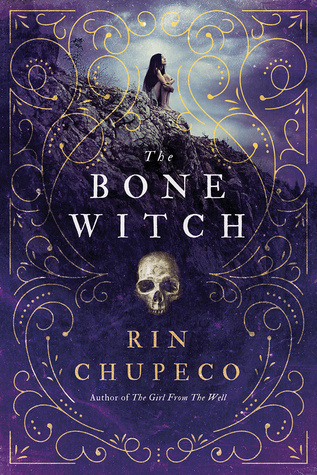 I follow a lot of different publishers through email and social media, and I follow a number of other reviewers and review sources mostly out of curiosity and partially to see what's trending in literary circles.  One of the books that I've been seeing almost everywhere has been The Bone Witch by Rin Chupeco.  In fact it was my curiosity over why this book seems to be everywhere that prompted me to request an ARC, otherwise I likely would have passed this one by.
Well…curiosity and the fact that it's got one beautiful cover.
The Bone Witch is about "Tea" – a young girl with witch powers.  All who have powers vary a bit.  Tea's abilities are in necromancy … the ability to raise the dead … which makes her a "bone witch" – one of the feared and often derided members of the witches. But as with anyone who possesses abilities, it takes training to understand and hone  and control the skills.  Imagine the power to raise the dead but not being able to control that power.
Tea is sent to study with an old, wizened witch so that she can become an "asha" –  a clan-like membership of witches.  But the training is harsh and Tea, like others who are in training, is treated more like a servant than a student.  Punishment for simply offending someone of higher stature (which is everyone when in training) might be to hold a pose of supplication in a public street for an entire day.
Tea weathers her training and while still not in complete control of her abilities is pushed through the asha review, supported by her teacher. There is a war brewing among the different kingdoms and having a bone witch in residence could tip the balance of power.  Even a bone witch not quite ready.  But Tea might have plans of her own.
What author Rin Chupeco does exceptionally well is create a mood.  Like the beautiful, evocative cover that instantly sets a tone, Chupeco satisfies with a lulling, misty narrative.  Mostly this works well though there are times when I craved a little more excitement or a little more action.  Tea seemed so calm and to take everything with such patience that I wondered if she were going to be capable of anything more than servitude.
There is some tremendous world-building going on here, and the tease of larger things to come certainly piques the interest.  But while the narrative is beautiful, it does get in the way of the story and I hope that Chupeco and her editor can find a better balance to keep readers interested as the series continues.
Looking for a good book? The Bone Witch by Rin Chupeco is a beautifully told story, though sometimes the story gets lost behind the telling of it, and paves the way for an intriguing series of books.
I received a digital copy of this book from the publisher, through Netgalley, in exchange for an honest review.
* * * * * *
The Bone Witch
author: Rin Chupeco
series: The Bone Witch #1
publisher: Sourcebooks Fire
ISBN: 1492635820
hardcover, 411 pages