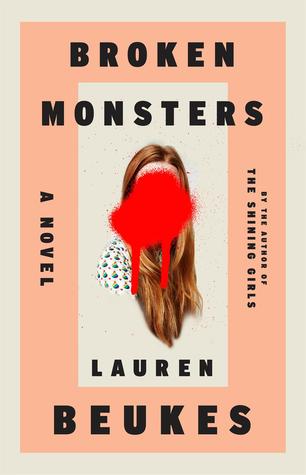 Good horror novels are hard to find because sustaining a strong level of horrific suspense is difficult to maintain.  Those few authors who've become synonymous with horror have done so by finding the key holding the reader's attention while delivering a strong, horrific story.
In Broken Monsters, Lauren Beukes shows that she's one of the newer authors that we need to pay attention to because she's got a tremendous sense of rhythm with her words and characters, but she's not quite there yet with her story development.
Beukes captures our attention right from the start when a body is found that is disturbing (even to Detroit detectives) because a young boy's torso has been fused with the carcass of a deer.  More bodies are found that rival the deer boy and the local detectives are in a race to find the sick killer and keep the news of these twisted murders from terrifying the public.  To complicate matters, the lead detective's daughter takes on crime fighting without her mother's knowledge and puts herself in tremendous danger, and a local journalist trying to track down the killer on his own.
The characters that Beukes creates are wonderful.  Everyone is a living, breathing soul and she gives them desires and flaws that are recognizable in each of us.  Beukes has a keen sense of bringing humanity to her characters on paper and it is this that keeps us reading.
But the plot dissolves for this reader.  Once caught by that opening chapter, I wanted to get in and follow the good detective Gabriella Versado and find the sick killer and learn why the murders were happening in the way that they were.  But in trying to create a novel from the story, Beukes adds subplots that do more to distract than actually add horror.  We fade from a horror/thriller to a supernatural/horror and back again.
But we also get the sense that the 'broken monsters' aren't just the dead being combined with animals, but all of the characters in this world, including our protagonists.  This suggests that Beukes is bringing a lot more literary power to a horror story than one typically finds, which is delightful, but it might also complicate a thriller unnecessarily.
We almost get the feeling that the author wasn't quite sure what story she wanted to tell and kept changing her mind along the way and because of this the literary ride gets bumpy.
I can see that I am going to really enjoy reading more Lauren Beukes.  There is a lot of potential with Broken Monsters and combined with her collection, Slipping (which I've reviewed here), I can tell that I'm really going to enjoy her works as she grows.
Looking for a good book? Broken Monsters is a dark, sometimes supernatural thriller by Lauren Beukes that may have you on the edge of your seat at times, but gets a little too involved in sub-plots to make it consistently thrilling.
I received a digital copy of this book from the publisher, through Netgalley, in exchange for an honest review.
* * * * * *
Broken Monsters
author: Lauren Beukes
publisher: Mulholland Books
ISBN: 0316216828
hardcover, 442 pages