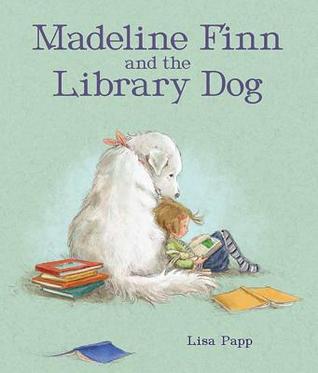 When I review or consider a children's book, there are three things I look at: 1) How is the art?  2) How is the story? 3) What is the likelihood of re-reading the book?  Madeline Finn and the Library Dog is a success on every level.
Madeline Finn is a young girl who doesn't like to read because she's still struggling to understand words.  Even though her teachers tell her to sound them out, she hears the other kids in the class snickering at her struggles.  So when she is invited to go to the library, she can't think of anything worse!  But the library has a special room, full of dogs, who enjoy being read to and who don't care if it takes a while to get the words, or even if the words are right.  But on a return visit to the library 'her' dog isn't there.  Will this stop her new interest in reading?
This is really an incredibly beautiful little story that parents won't mind reading it again and again.  And they will have to.  The art is as simple and as beautiful as the story and children will enjoy looking at the pictures and hearing this book and will request it over and over.
The down side to this book?  Every child who hears/reads this book will want their library to have a room full of library dogs.
Looking for a good book?  Madeline Finn and the Library Dog, by Lisa Papp, is so beautiful it MUST be on your reading/shopping list if you have small children at home, or know someone who does.
I received a digital copy of this book from the publisher, through Netgalley, in exchange for an honest review.
* * * * * *
Madeline Finn and the Library Dog
author: Lisa Papp
artist: Lisa Papp
publisher: Peachtree Publishers
ISBN: 1561459100
hardcover, 32 pages