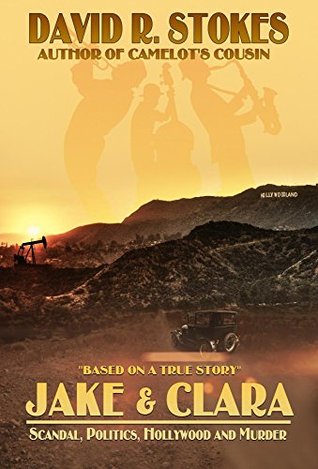 Jake Hamon was known as "The Oil King of Oklahoma" and like a lot of very wealthy men, even today, got very involved with politics.  Hamon supported Warren Harding for the presidency and in turn, Hamon hoped for a cabinet post.  But Hamon, also like a lot of wealthy men, even today, also dabbled with affairs of the heart.  Despite being married, Hamon traveled with his mistress, Clara (who was legally named Hamon in order to travel without suspicion.
But Mrs. Harding was a morally straight woman and insisted that Hamon dump his mistress and be seen with his wife if he wanted access to the White House.  And while Hamon's ambition didn't even have him waver, Clara didn't take too kindly to being tossed aside and took matters into her own hands (by way of a pistol).
Clara goes on the run and ultimately faces a trial and then even makes movies, hoping to capture an audience based on her infamy.
This book is "historical fiction" meaning that it's all based on fact but the day-to-day detail and the dialog is made up (though with the intentions of capturing what the characters might realistically have said).  Historical fiction is fun to play with if you're an author, because you don't really have to be true – you just have to root it in fact.
Author David R. Stokes has picked a great story – it has all the ingredients of a romantic/mystery/thriller.  And indeed it is pretty much a pot-boiler.
Stokes has clearly done a good deal of research, and for the most part his real-life characters act in a manner that we might expect.  But Stokes' writing is a little simple.  He often falls in to 'telling' rather than 'showing':
Jake felt bad.  He knew he was lying to her. But he kept telling himself that there was no reason for drastic action with Clara unless and until the senator from Ohio was, in fact, elected.  For now, he just planned to play it safe, even if that meant stringing poor Clara along.
And other than telling the grand biography(ies) as fiction, there isn't a very solid through-line.  Is this Clara's story?  Jake's?  They're both in the title, but without a storyteller's focus, we're left with a fictionalized historical account when it could be so very much more and could be tremendously exciting.
Thumbs up for bringing the story to us, but thumbs down for lack of stronger storytelling.
Looking for a good book?  Jake & Clara: Scandal, Politics, Hollywood and Murder by David R. Stokes could be a really exciting knock-out read, based on a true account of some once-famous people, but the writing doesn't quite grab the reader the way it should.
I received a digital copy of this book from the publisher, through Netgalley, in exchange for an honest review.
* * * * * *
Jake & Clara: Scandal, Politics, Hollywood and Murder
author: David R. Stokes
publisher: Critical Mass Press
ISBN: 099698920X
paperback, 350 pages