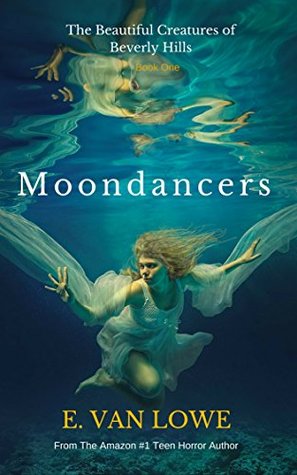 How often do you run across a classic YA novel … for boys?  Not very often.  Typically, a YA book for boys is all about machismo and action and fighting, but rarely dealing with emotions of love – further propelling gender stereotypes. But E. Van Lowe's YA book, Moondancers, breaks through the barriers and offers up a really enticing set of characters and story.
Josh Butters is going on sixteen.  His best friends are Alan and Conner.  They are the stereotypical teenaged boy nerds.  They think about, fantasize about, the really good-looking girls at school, but the very thought of actually talking to any of them makes the boys panic.  But a new girl, Alexia, has moved in next door to Alan, and she's the most beautiful girl any of the young men has ever seen.  Alan tries to impress her with some antics in his pool, but when he doesn't come back up Lara, Alexia's cousin comes to his rescue before the boys even see her move.  But when he does see her, Josh is spellbound.  He knows, in his heart, that Lara is his one true love.  But Lara and Alexia harbor an ancient family secret that could prevent the boys from ever getting close to the girls.  But when the secret is out, the boys are needed to help protect the girls from a long-time evil.
This is really one of the better YA books that I have read (and I've read a few of them).  In part it's because this really captures the feelings of the geeky, awkward, teenaged boy.  I know…I was one of them.  The constant thinking about girls.  The dreaming about those found so attractive, but the failure to step up and actually talk to one of them.  Not every boy is an athletic star and confident in himself.  Especially at that age, and this book really identifies with those young men.
And while the boys do talk about their feelings and their passions and finding a soul-mate, they are also able to step up and become heroes to fight for the ones they love.
And best of all…they understand and respect the friendships they have among themselves.  Too often boys in books are the masculine meat-heads who fight for the girl but don't really want to show the 'feminine' side.  These boys are 100% male, but recognize the tight bond that they've developed over the years of being friends and that this isn't just tossed away when a boy/girl relationship begins.
This is so smooth!  I am so excited to have found a book that understands and can convey this.
And the story is thrilling.  Monsters and enchanted creatures.  Domineering and clueless parents.  True, unrequited love.  Fights.  Brain over brawn.  This story has it all.  I felt that I could have been any one of these boys – would certainly have liked to have been when I was that age – and so I understood them.  They were real to me and I suspect that a lot of young boys would find it the same.
Which brings me to … the cover.  This is a GORGEOUS cover, as seen above.  But this screams "girl's YA book" to me.  Girls should like it.  There are some powerful young ladies within.  But this doesn't look like the sort of book that will grab a hold of those young boys who would want to read it.  In fact, it will be embarrassing for those geeks to take a book off the shelf with a pretty girl on the cover like this.  I know that's a shame, but that's the life of a teenager.
Do everyone a favor, and put this book in the hands of every boy ages 13-17.  Make them read the first chapter and they will immediately be involved and they will read the rest on their own.
Looking for a good book?  Moondancers, by E. Van Lowe, is an exciting YA book that should appeal greatly to teen boys especially.
I received a digital copy of this book from the author, through the publicist, in exchange for an honest review.
Please read the guest blog post from the author published this same day, on this blog.
* * * * * *
Moondancers
author: E. Van Lower
series:  The Beautiful Creatures Of Beverly Hills #1
publisher: EViL E Books
ASIN: B01BPKEPK4
Kindle Edition, 204 pages