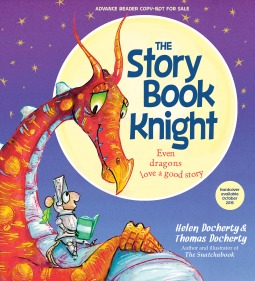 Yes! Yes! Yes!
I am not typically a fan of rhyming children's picture books, and the rhyme here is a little forced at times (read it out loud and you will stumble a bit), but the story is SO sweet and the art so FANTASTIC that I would guarantee that this is a book that will be requested again and again from the children, and fortunately, for the adults reading the book, it shouldn't get too tedious!
This is the story of a young knight (a mouse) named Leo, who would rather read that fight.  His parents think it's a bit odd, since knights are supposed to fight.  So they send Leo off on a mission, hoping that getting him into a little action will help get him away from his books.  There's a dragon in another town and the townspeople need a knight to get rid of the dragon.
Leo packs up his horse (mostly with books), and heads off.  Along the way he meets a few other creatures who are looking to attack him, but Leo calmly offers to read them a story, with them or their kind in it, and gives them the book and moves along.  But when he finally encounters the dragon, thinks look a little different.  Suffice it to say, Leo finds a way to return home as the victor and the dragon (never very scary in a book like this) does the right thing.
This really is very charming, fun to look at, and easy to read.  Parents who like to act out their stories a little (yes, I was one) will enjoy some fun opportunities here.
This was an advanced reader copy, but I promise I am putting it on my Christmas shopping list (thank you Google) and buying copies of this for all my relatives with appropriate-aged young ones.  It is an all-around winner!
Looking for a good book? The children's picture book market often gets pretty full of new releases, but The Storybook Knight, by Helen Docherty & Thomas Docherty will easily stand out, above the rest!  This is a book you and your young ones will want to have!
I received a digital copy of this book from the publisher, through Netgalley, in exchange for an honest review.
* * * * * *
The Storybook Knight
author: Helen Docherty
artist: Thomas Docherty
publisher: Sourcebooks Jabberwocky
ISBN: 1492638145
hardcover, 32 pages