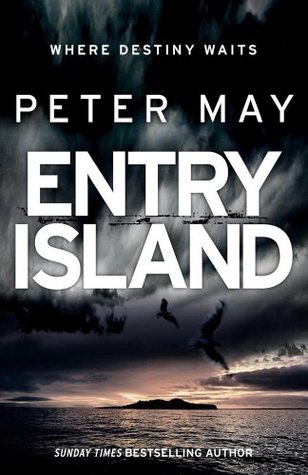 Detective Sime Mackenzie is part of an eight-person team of investigators flying to Entry Island, a narrow strip of land in the Gulf of St. Lawrence that was once the entry port into Canada and is now the home to only 130 people.  One of the wealthiest people on the island has been murdered in his home and Sime and team are headed out to investigate.  It looks, early on, like an easy call.  All the evidence points to this being a crime of passion and the jealous wife as the guilty party.
But Mackenzie can't shake the feeling that he knows the woman, despite the fact that they've never met.  This haunts him to the point that he spends a great deal of time reflecting, during his insomniac nights, on the Mackenzie history, some 3000 miles away as the clan separated on a Scottish island, hoping, planning to re-unite across the ocean.  Why is Sime dreaming about the past, and why can't he shake the feeling that, despite the overwhelming evidence, he doesn't think the wife is guilty?
This is the first book I've read by Peter May and it's not likely to be my last.  His writing evokes a terrific mood and I felt that I was there, on Entry Island, and there in Scotland with the characters.
This book feels sorely like two very separate stories that just barely come together at the end in a bit of over-the-top sentimentality.  Both stories were good and interesting, though I was much more in tune with the modern mystery (perhaps that's because this book starts).  At one point I stopped and wondered if I had skipped a chapter or had forgotten something because I felt we had spent so much time in the past and I was wondering what any of it had to do with the mystery.  This sense of two very different stories did not work very well because they felt so very different and I just wasn't getting any sense of how they tied together.  Instead of building wonder and anticipation, I was losing interest in both stories through the middle third of the book and it wasn't until the end was in sight and there looked to be a resolution to both stories did I get my interest back.
I liked the writing, and I liked the characters, I just didn't care for the arrangement of the story parts.  A stronger editing hand might have helped here.  I look forward to giving Peter May another try.
Looking for a good book?  Entry Island by Peter May has many good things to offer – strong writing and interesting characters with some history – but the elements of the book don't keep the pacing moving forward particularly well.
I received a digital copy of this book from the publisher, through Edelweiss, in exchange for an honest review.
* * * * * *
Entry Island
author: Peter May
publisher: Quercus
ISBN: 1782062203
hardcover, 534 pages