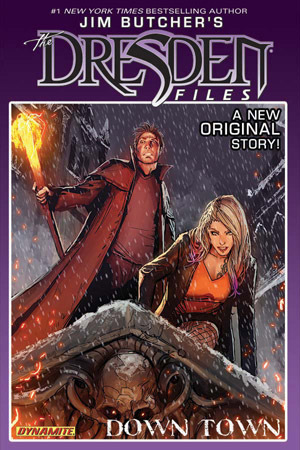 This is the third Dresden Files graphic novel that I've had the pleasant opportunity to read and review.  I've noticed two things in regards to the series, based on these three books. 1) The writing is crisp.  The storytelling is very good, with plots that intrigue and a good command of the special needs for writing for comics/graphic novels.  You generally don't need to know the background of Harry Dresden to enjoy these stories. 2) The artwork varies.
In this graphic novel, Down Town, PI wizard Harry Dresden has taken on a new apprentice, Molly Carpenter.  Molly isn't ready to tackle anything too large, but sometimes circumstances force our hand.  There is a killer running around Chicago, and there's magic afoot.  With Dresden, with Molly and his hound Mouse, will face a foe who doesn't tremble at the thought of facing retribution by the White Council (a group of wizard bent on protecting humans from abuses of magical powers).  In fact, it appears to spur the older wizard on.
Dresden's powers are no match for this other wizard, and clearly his apprentice, who has just barely learned to move an object a short distance with her powers, will be of little help.  It will take much more than he anticipated to survive this mission.
I was quite interested in the story, though I will admit that I wanted to learn more about his new assistant.  I trust that she'll play a more prominent role in future issues.  But I was generally engaged and found the familiar characters reacted much as I expect them to, based on my very little knowledge of them.
The art, unfortunately, brings the story down.  It was, at best, fine.  The characters are generally recognizable (which should go without saying, but doesn't always) but the art doesn't enhance the story.  Rather than helping to tell the story, the art simply moves along, feeling just a little behind what we already know from the reading.  That's really the best way to describe it.  Rather than pushing the story forward, building momentum and excitement, it just feels as though it's holding the story back.
Overall, I enjoyed this story, and I'm enjoying the series and I wish the art could continue to be of the highest order.
Looking for a good book?  The graphic novel, Jim Butcher's Dresden Files: Down Town, is a strong story in the Harry Dresden series, though the art could be more helpful.
I received a digital copy of this book from the publisher, through Netgalley, in exchange for an honest review.
* * * * * *
Jim Butcher's Dresden Files: Down Town
authors: Jim Butcher & Mark Powers
artist: Carlos Gomez
publisher: Dynamic Forces
ISBN: 160690700X
hardcover, 144 pages