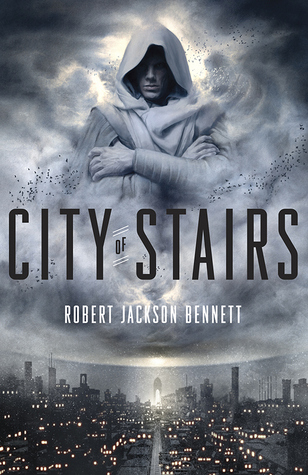 It is not unusual to find religion, or religious aspects in the characters in science fiction stories, but it definitely takes a lot of care to write it intelligently and with respect.  Robert Jackson Bennett does just that in his science fiction novel, City of Stairs.
There are two aspects to this book.  The first half of the book is set-up.  It establishes the characters and the world, and their religion.  The second half of the book builds the story.
Jackson is remarkably talented at world building.  This world-building is complete with a unique set of mythology and legend and religion, which is no small chore for and writer.  And what is so beautiful about this is that everything feels so real.  This feels like historical fiction; as if we're meeting people who once existed and did all the things in this book.  That's quite a testament to the writing.
As far as a book goes, though, I found this early portion to be slow and not particularly engaging.  It was interesting, but it was also a lot to absorb without any momentum or obvious conflicts.  I struggled early, in fact had to put the book down and come back to it.  But I did come back to it, particular since it had such great reviews from some friends.
The second portion of the book was tremendous.  It was driven, frantic, and full of conflict.  It is also playing on a grand scale, with gods, their lives and deaths at the heart of the story.
The bulk of the story takes place in a city called Bulikov, which was once a cultural mecca.  It was protected by a number of gods, but when a strange weapon killed the gods, all the history and culture of the old Bulikov disappeared.  The city is now run-down, a derelict city, full of rambling streets and stairs that lead nowhere, which reminds people of all that was lost.
There are those who are searching for what has been lost, and when one of them is brutally murdered, Shara is sent to investigate.  What she learns along the way in her investigation takes her way out of her comfort zone.  There is murder, sex, politics, and the well-being of gods tossed into the mix.  And history.  This is where the early part of the book pays off.  History is very important here, and author Bennett's created history is important to know and adds to the intensity of the story.  And it also may not be as true as history reports.
This book is a tremendous journey, and hopefully part of a much bigger story.
Looking for a good book?  City of Stairs by Robert Jackson Bennett is a science fiction epic, in the vein of Dune, or the more recent Expanse series by James S.A. Corey, and should be read by anyone interested in quality science fiction books.
I received a digital copy of this book from the publisher, through Netgalley, in exchange for an honest review.
* * * * * *
City of Stairs
author: Robert Jackson Bennett
series: The Divine Cities #1
publisher: Broadway Books
ISBN: 080413717X
paperback, 452 pages