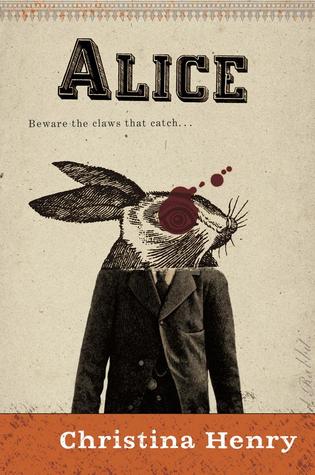 Christina Henry's Alice is a darkly original look at Lewis Carroll's Alice in Wonderland stories.
In a dark, run-down (some might call it a 'hole') town called Old City, a ragged woman named Alice is imprisoned in a hospital ("Her body had grown older but her mind was still trapped at sixteen, still unsure of how to act and how to be."), though she doesn't know why she's there.  She manages to escape her hell-hole when a fire occurs at the hospital, and she begins a journey through the warrens of Old City, led by thieves and rapists and drug-dealers with nicknames like The Caterpillar and The Rabbit, and while she un-successfully fends for herself in this twisted nightmare, she looks for some form of salvation … a way out of the rabbit-hole, if you will.
I cannot stress enough that this is a DARK tale.  It is brutal and creepy.  It is Alice in Wonderland as told by Bram Stoker.  It made me want to shower after reading it, and the very fact that the author, Christina Henry, could create such realistic horrors in such a non-realistic story, is absolutely brilliant.
There were moments in the story when I wasn't sure if things were making sense.  For awhile I though this was a totally nonsense story for the sake of darkness, but as the characters became clearer, and less likable, the story began to take shape for me, and I was totally mesmerized.  I began to recognize the familiar Alice in Wonderland story, the parallels, within this macabre tale.
Let me say it again…this is a dark story.  This is a  story about a pretty young girl, who is not mentally stable and easily taken advantage of.  If you are uncomfortable reading stories of rape ("…blue marks on her thighs where fingers had been") and drugs and other violent crimes, then you'd best avoid this book, because even though there might be a sliver of light at the end of the tunnel, the grittiness doesn't let up.
I'm impressed with the story-telling.  Henry weaves this tale quite well and makes sense of the nonsensical, though the reader must be willing to work for it.  It is raw and brutal and richly dark and gritty.  For anyone who is a fan of the original Alice stories, and doesn't mind a macabre look at the story, this is highly recommended.
Looking for a good book?  Christina Henry's take on Alice in Wonderland, Alice, is a rich, dark tale that begins to take shape as it goes and the writing is sure to draw in the patient reader.
I received a digital copy of this book from the publisher, through Netgalley, in exchange for an honest review.
* * * * * *
Alice
author: Christina Henry
publisher: Ace
ISBN: 0425266796
paperback, 304 pages