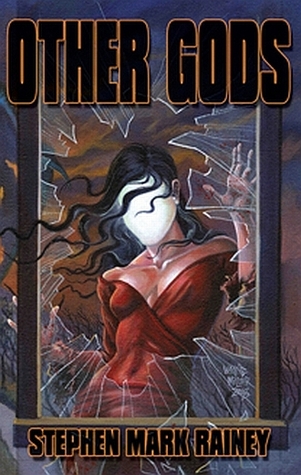 Good, solid horror fiction can be difficult to find and it pays to look for it from the publishers who specialize in the genre.  Dark Regions Press is a publisher that is well worth checking out if you appreciate the darker fiction.  And if you go, put in an order for Other Gods, a collection of short fiction by stalwart author Stephen Mark Rainey.
Rainey's fiction works so well for a couple of reasons.  First there are his character, who are well-drawn and real people in interesting and tough circumstances.  They are people we see every day.  They are like you and me…heck, they ARE you and me.  And when you can write about real people, the reader finds it easy to become invested in the outcome.
And then there are the settings.  Many of his stories seem to have an outdoors element to them, making nature a partner in crime to the horrors that take place.  As someone who loves the outdoors myself, this also adds to the investment in the story.
And of course…the writing itself.  How can you NOT be giddy to read a story that begins:
Dawn approached with a belligerent smirk, its gold-pink tongue licking the horizon slowly, deliberately, as if to savor the taste of the agony it would soon inflict. — "Antidotes"
Rainey's writing is good.  I was looking for a different word to describe it, but decided that just stating it flat-out, honestly, was the best way to put it.
Not every story was a stand-out to me, which is not unusual in any collection.  "The Fire Dogs of Balustrade" did nothing for me, whereas "Circus Bizarre" and "The Lake of Shadows" really caught me.
I highly recommend this collection to fans of Rainey and to anyone who may be looking to read some short, dark fiction.
Most of the stories have been previously published in magazines or anthologies. This collection includes:
"Rips in the Tent: Introduction" by Elizabeth Massie
"Fugue Devil"
"Rapture in Black"
"Sky of Thunder, Island of Blood"
"Other Gods"
"Antidotes"
"Circus Bizarre"
"The Lake of Shadows"
"The Jack-O'-Lantern Memoirs"
"Silhouette"
"The Violet Princess"
"Elegy"
"Epiphany: A Flying Tiger's Story"
"Signals"
"The Fire Dogs of Balustrade"
"The Transformer of Worlds"
"The Devil's Eye"
Looking for a good book?  Fans of the dark/horror genre will want to turn on the lights and read these collection, Other Gods, of fiction by Stephen Mark Rainey.
* * * * * *
Other Gods
author: Stephen Mark Rainey
publisher: Dark Regions Press
ISBN: 1626410666
paperback, 294 pages