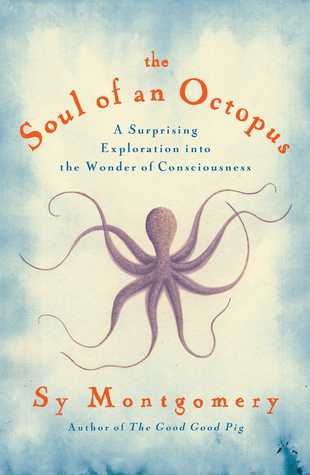 This book took me completely by surprise, and in a fantastically good way.
First, author Sy Montgomery manages to capture the reader's attention with the subject matter (octopuses [which is the correct way to write the plural of octopus, and Montgomery explains why]), but she holds the reader with her gentle narrative, which strokes our interest much the way she gently pets some of the octopuses in the New England aquarium.  What we learn is that an octopus is incredibly smart and each has a distinctive personality and an incredible memory, recognizing humans even after months of not seeing them.
Montgomery shares with us some of the known science about the octopus (they have three hearts, a beak like a parrot [though we hardly ever see it], and their suction cups have chemoreceptors so that they can taste whatever they touch.  They are bright and playful.  A popular toy in aquariums is a pill bottle which the octopus can un-cap (and re-cap) fairly easily.
Right from the start it is clear that Montgomery has fallen in love with the octopus, and it doesn't take long for her passion to become infectious and we, too, want to touch and stroke and let an octopus taste our hands and arms with its tentacles.  But for all the differences there are between octopus and human (and it feels as though there couldn't be many animals with a greater difference), it is their similarity that appeals.  It is their personalities, as Montgomery describes them, that fascinates.  Why does an octopus tenderly explore the hands and arms of two people, but then squirt the third?  Why will they eat the offered fish from some, but not from others?  Do they intentionally create problems in their tanks (plugging up valves so that the tanks over-flow) and sometimes escape their watery confines?
I did wonder at one point if the octopus that Montgomery was writing about actually had such human characteristics or if it was Sy Montgomery anthropomorphising the animal, and I was hypnotized by the writing to believe in it.  I'm still not certain.  I do know that while reading the book, I was eager to find a nearby aquarium that had octopuses so that I could visit and hopefully have some of the same experiences as Montgomery.
Upon more reflection after having finished the book, I really am not sure how much of the personalities of the different octopuses is really there, and how much of it was wanted to be there, by Montgomery.  But I don't know why it wouldn't be there.  The more science learns about our natural world and the animals, the more it seems we realize that man is not the only intelligent creature on the planet, and a book such as this may go a long way in helping people to recognize the inter-connectedness of all life.
This is a powerful and addicting book.
Looking for a good book?  The Soul of an Octopus, by Sy Montgomery, is a fascinating memoir/science book that will have you wanting to get a membership at your nearest aquarium so that you can spend time with octopuses.
I received a digital copy of this book from the publisher, through Netgalley, in exchange for an honest review.
* * * * * *
The Soul of an Octopus: A Surprising Exploration into the Wonder of Consciousness
author: Sy Mongtomery
publisher: Atria Books
ISBN: 1451697716
hardcover, 272 pages