THROWBACK THURSDAY: REVIEWING A BOOK FROM MY SHELF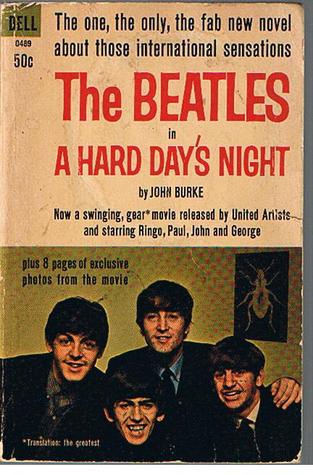 What are The Beatles without their music?  You can get a decent idea by reading this book.
If you aren't already familiar with The Beatles, then you should probably just skip this book (and this review).  Your lack of 1960's pop culture knowledge aside, you wouldn't understand the references or 'hear' the character's voices.
During the crescendo of their fame, The Beatles made a movie, A Hard Day's Night, which was essentially one of the first music videos.  One of the things the movie did was to make the general public aware of the youthful, jubilant personalities of the four boys, and their carefree attitudes.  They were fun and witty, with clever banter.  And they made some pretty good music.
This book doesn't have the music, of course, but you can pick up that almost anywhere.  What the book does manage to do is make a little more sense of the story-line (something I was never quite able to do from watching the film), and captures the quick wit and friendly banter.  It really helps to be able to hear the voices (for those of us who feel we know the quartet well).
I definitely enjoyed re-living this time with The Beatles, and if you can get your hands on a copy of the book, you might, too.
Looking for a good book?  The Beatles in A Hard Day's Night by John Burke is a lively romp that captures the fun of The Beatles' movie.
* * * * * *
The Beatles in A Hard Day's Night
author: John Burke
publisher: Dell
published: 1964
paperback, 156 pages