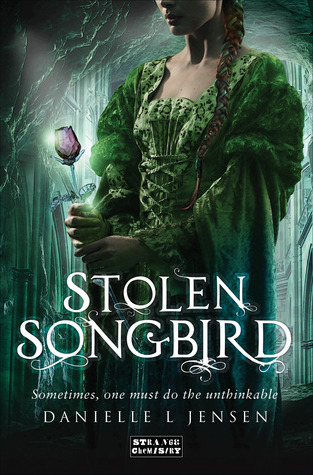 There is a lot of good fiction on the market for young readers and Stolen Songbird, by Danielle L. Jensen is among that group of good fiction.
I was about to read a different book by Jensen when I saw that it was a follow-up to Stolen Songbird, so I thought I'd best read this one first.  It's a moderately quick, easy read, and definitely targeted to the young girl readership.
Stolen Songbird is a fairy tale not unlike Beauty and the Beast, in which a beautiful young girl is kidnapped and forced in to a marriage with, in this case, a troll prince.  They both find the other unattractive (at first), but their union is supposed to break a long-standing curse that should set the trolls free.  Cecile, the human girl, gets involved well beyond the parameters of a captive, royal bride, in to the troll politics and hierarchy, and learns of different factions and a brewing rebellion.  Her own husband, Tristan, appears to be involved, and to complicate everything, Cecile is having tender feelings for her troll husband.
This definitely is written for a Young Adult audience where romance is unrequited and dangerous, and the closest thing to sex is stirring feelings.
Jensen writes well, and keeps the reader engaged.  She has also created some very real characters.  In some cases, perhaps, too well.  Tristan and the trolls, for example, never quite come across as 'trolls' — either my own interpretation, or anything that was defined in the course of the story.  If the term 'trolls' weren't used regularly, there'd be no other way to know they were trolls.
But the book is about Cecile, and Cecile is drawn quite well.  She is neither the whimpering fop, nor the super heroine.  She is a blend of both in a very realistic way, and grows believably through the book.  It is this ability to make Cecile 'real' and grow realistically that holds the reader fast.
The Stolen Songbird of the title refers to Cecile, who is stolen away from the humans and brought to Trollus.  Cecile has a remarkable singing talent, which we are shown early in the book, and it clearly implies that her talent will play an important part in the story.  But other than one small moment when Tristan hears her and his heart softens toward her, the singing never really plays a part in the story.  This is very disappointing.  Presumably it will come up again in the sequels, but in this case it is a missed mark.
Overall, I really enjoyed the story , I look forward to the next book in the series, and I think it's precisely the sort of story that teen and tween girls will really enjoy, and some of the teen boys might as well, if they'd give it a shot.
Looking for a good book?  Stolen Songbird by Danielle L. Jensen is an engaging read for teen readers.
I received a digital copy of this book from the publisher, through Netgalley, in exchange for an honest review.
* * * * * *
Stolen Songbird
author: Danielle L. Jensen
series: The Malediction Trilogy #1
publisher: Strange Chemistry
ISBN: 1908844965
paperback, 469 pages