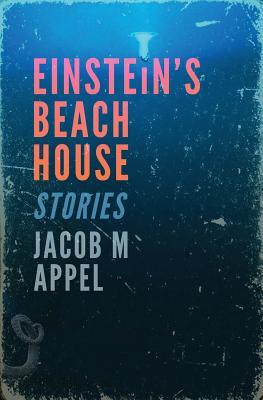 I love short stories … I say it every time I review a collection, and it's true.  I also love 'discovering' a new voice that appeals to me.  Recently, here on my blog, I 'discovered' Tessa Mellas, and R. Narvaez, both writing some very powerful short stories.  And now, enter Jacob M Appel.
The title of the collection (also the title of a story inside) really grabbed me, but he could have titled the book after any one of the stories in the collection and it would have been a head-turner.  The story itself tells of a child recalling a time when a brochure errantly listed her family home as the once beach house for Albert Einstein.  Rather than constantly trying to turn people away, the cash-strapped family, spurred by the opportunist father, charge an exorbitant fee for touring the home.  I don't want to give anything away, but the story does take a slightly unexpected turn.
My favorite of the collection, "Limerence," (sadly, I have to admit that I had to look the word up) is possibly the best short story I have ever read.  It spoke to me as no story ever has, and it actually left me feeling better and thinking, "yes, yes."  Has Mr. Appel been through a similar situation which allowed him to draw from the experience, and that's why he captured it so well?  Or is this completely made up, coming not from any past incident but a furtive imagination?  I couldn't say, but it doesn't matter.  The story is really quite perfect.
I loved the power of "Hue and Cry," a story of coming of age and seeing both the best in people and the worst.
"The Rod of Asclepius" is powerful and heart-wrenching and despite some monstrous acts, it is still a family drama.
Two of the stories are about relationships, specifically troubled relationships, and these did not have as much an impact on me, though I appreciated what Appel did in the stories.
Appel's literary voice is quiet and smooth, and he touches the reader rather subtly, despite jarring us with an opening remark or sudden moment:
"So Lizzie was mortified, yet not unprepared, when their father insisted on taking them to meet the sex offender."
…
"We'd been living together for eight months when we adopted the hedgehog.  I'd wanted a German shepherd…"
…
"Rabbi Cynthia Felder was newly married, and in the pulpit only six months, when a former lover asked to borrow the sanctuary."
And although this jarring, maybe shocking moment comes early, Appel softens the tone and delivers the kick somewhat unexpectedly.  In part this comes from the characters he paints for us.  Such real people he puts forward, some with quirks and idiosyncrasies, but nothing that doesn't feel real.  And it's that real-ness, along with this understated voice, that captures the reader and draws us in to the story.  And it is the art of the story-teller that he is able to teach us something new, to open our eyes a bit at the world and the people around us, and perhaps, as is the case for "Limerence" and myself, teach me something much more personal.
This is really, really a tremendous collection and kudos to Pressgang for selecting it as their Pressgang Prize winner for 2013.  Jacob M. Appel is a writer to watch out for, and this is a story collection that deserves to be featured prominently on your home book shelves.
This book features the following stories:
"Hue and Cry"
"La Tristesse Des Hérissons"
"Strings"
"Limerence"
"Einstein's Beach House"
"The Rod of Asclepius"
"Sharing the Hostage"
"Paracosmos"
Looking for a good book?  Einstein's Beach House is a tremendous collection of short stories by Jacob M. Appel that should hit home to anyone who appreciates the skill of a strong writer.
I received a copy of this book from the author through the Goodreads First Reads Giveaway in exchange for an honest review.
* * * * * *
Einstein's Beach House: Stories
author: Jacob M. Appel
publisher: Pressgang
ISBN: 0984940588
paperback, 179 pages