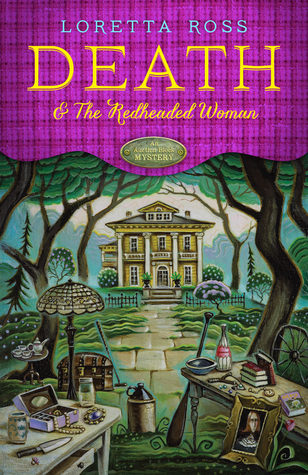 It's only been in the last year or so that I've really begun to read mysteries.  I've read some really spectacular mysteries lately and have gotten excited each time I begin a new one, hoping I'll be swept away in some beguiling mystery.  Death and the Redheaded Woman looked very promising, with a title that hinted at sex (if you just say the words "the red-headed woman" out loud, it sounds sexy!) and a premise that I could see as being perfect for snooping around — our protagonist is someone who works on estate auctions.
Unfortunately, this isn't quite what we get.
Instead we have something that is a cross between a cheap Harlequin romance, a mystery, and junior high joke book.  I couldn't help but highlight a number of passages that illustrate these things.
Wren works for an auction company and when she goes to a home to prepare an appraisal of the items, she discovers a dead body on the stairs in the house.  A naked male dead body.  After that, Wren is the recipient of a serious of jokes that struck me as infantile ("So, you finally get a guy naked and he's dead! And he was still warmer than your last boyfriend!"), and she tends to respond in kind ("Yeah, he was gorgeous," Wren agreed. "Plus, he was naked. Really too bad about the whole being dead thing….").  At one point she refers to him as the Naked Dead Guy with an erection.  And we're only 15 pages in to the book when Wren and a friend have this conversation:
"So, was Death The Bounty Hunter as gorgeous as Naked Dead Guy?"
"Oh, more gorgeous! Magnitudes more gorgeous. And he was living. But, unfortunately, he was dressed."
"There's just no such thing as a perfect man," Leona said wisely.¹
Yes…I'm rolling my eyes at this point, but I stuck with the book.  This kind of conversation will continue throughout much of the book.
Death is a bounty hunter and his name is pronounced "Deeth."  He's kind of on the skids, living out of his car after his wife left him, and he's waiting for some bounty money to come in.  He's a former Marine who was injured by an exploding IED while he was deployed.  Author Loretta Ross tries to make the most of this, playing on the idea of a marine as a strong, macho protector, and yet because Wren is the 'star' of this romance, Death needs a strong woman to look after him.
Wren and Death banter about sex quite a bit and I kept imaging the kids at my local junior high.  One moment I highlighted in the book is included just to make a small penis joke.
"…You drive like a little old lady."
"How do you think they get to be little old ladies?"
"Cute. Well, I'm gonna be a little old man by the time we get anywhere."
She shot him a sly, sideways glance. "So, you're saying that you're a little man?"
"Oh, no!" He raised his hand and wagged a finger at her as she cackled at him. "You did not even go there."¹
I don't mind sex in books.  I quite enjoy it, but the sex here is so tepid and teasing – but not teasing as in promising something good later.  It never matured, but was stuck in the style of pre-teen humor.  I was waiting for a chorus of "that's what she said" (which thankfully did not come).
Fortunately the sex, good or bad, is a sideline, and there's still a mystery to solve.  The mystery, not only of the naked dead man, but of some very antique jewelry that Death believes may be in the house that is about to be sold.  The solving of the mysteries is well handled and well-plotted, but too often it seemed as though there was no movement toward the solving of any of the mysteries.
One thing that bothers me a great deal in any writing, but perhaps particularly so in mysteries, is the telling of something from the past (this usually begins with someone saying "remember") and the leaping to conclusions which are accepted without investigation.  This book pushes both of these buttons on me and I can show you both in one simple passage:
"Wouldn't jewelers have been sent descriptions of the stolen jewels and asked to look out for them?"
"Yeah, but remember, the robbery had been a couple of years before that, so it wouldn't have been fresh in his mind. And this wasn't just some random person bringing valuable jewels to him for appraisal. This was one of his oldest and most trusted clients. Probably she said she must have just forgotten buying them or something and he passed it off as senility setting in."
"Okay."¹
We are approaching the denouement and we have a "remember" and a "probably she forgot" followed by "okay."  That's a lot of happenstance for solving a mystery!
Looking for a good book?  Too much giddy pre-teen styled sex humor and the leaping to conclusions over-shadow what might be an interesting mystery in Death and the Redheaded Woman.
¹All quotes from an advance reader's copy and may not precisely reflect the published copy.
I received an electronic copy of this book from the publisher, though Netgalley, in exchange for an honest review.
* * * * * *
Death and the Redheaded Woman
author: Loretta Ross
publisher: Midnight Ink
ISBN: 0738743933
paperback, 264 pages