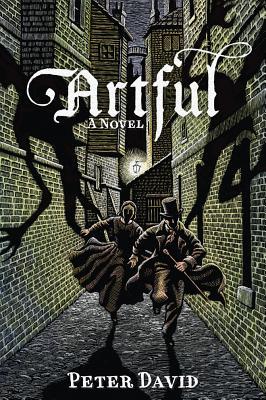 If Charles Dickens wrote horror fiction today, he would have written something very much like this.
I must admit that when I requested and downloaded this book, I did so first because I recognize author Peter David as being a fine writer, and second because I thought that this might be a novel focussing more on The Artful Dodger… a follow-up to Dickens' Oliver Twist, if you will.  And while it was, it wasn't quite what I was expecting (no…I don't always read the descriptions or Goodreads reviews before reading a book!).
This is a book in the vein of Pride & Prejudice & Zombies or Abraham Lincoln, Vampire Slayer.  This takes a classic work (Charles Dickens' Oliver Twist) and adds an element of the supernatural (in this case, vampires).
While the primary character here is Jack Dawkins, The Artful Dodger, author David clearly has a special affinity toward the dark Fagin.  Fagin plays some very key roles here and also is the one figure that suggests a potential sequel.
Typically I enjoy reading dark literature … some vampire fiction  … for some of my escapist reading.  And while this read very easily and with David's typical ease with language and story, I never got a sense of just why this should be in any way important.  I never cared about any of the characters … not Dodger, not the young Van Helsing (how can you have a vampire novel set in the 1800's without a Van Helsing?), not Fagin, not Alexandrina, not … well, you get the point.  There is supposed to be some potential danger for all of England, which only Dodger can stop, but that danger never felt truly imminent or likely.  So, without caring about the characters or believing in the danger, the book was little more than a way to pass some time reading.
But the reading is fun.  David tries to mimic the Dickensian style of writing.  True fans of Dickens won't be satisfied here, but for many of us, it's just enough to get the sense of Victorian language and literature.  The appearance of figures from Oliver Twist and other historical/literary figures is fun.
I recommend this as a quick, easy, escapist read for connoisseurs of vampire fiction.  I do not recommend this for anyone looking for a story with any 'meat' to it.
Looking for a good book?  Artful is an easy read for vampire-fiction readers but lacks a substantial story.
* * * * * *
Artful
author: Peter David
publisher: 47 North
ISBN: 1477823166
paperback, 288 pages