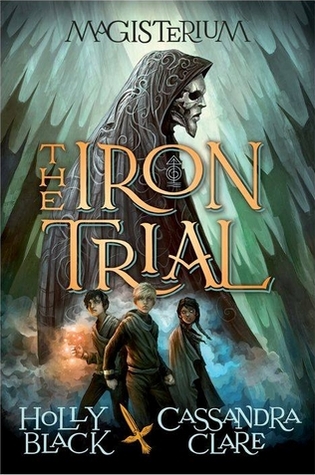 **WARNING — SPOILERS AHEAD!!**
Comparison's to Harry Potter are going to be inevitable as The Iron Trial deals with a young man going to a magician's school to learn how to use (and control) his magic abilities. There's also a prophecy about the return of a 'bad' magician and a group of students thrown together who become friends and rely on one another's talents. Sounds familiar, doesn't it?
The similarities run throughout the book, but as I was reflecting on this it occurred to me that the primary reader that this book is targeted toward is typically young enough that s/he will not have remembered the first few Harry Potter books.  They may have read them, but more likely, they will be familiar with the movies more than the books.  And in the grand scheme of things, if the similarities are what draw the young reader, ultimately it is the quality of the story-telling that will hold the reader.  Fortunately, the story moves along swiftly and the plotting will hold the reader's interest.
Callum Hunt is a young man about to take his entrance exams for a magic school.  Callum's father is encouraging Call to fail the exams so that he will not be admitted.  Call does everything he can to fail and becomes the laughingstock of the students and no one wants to be near him.  But as the entrance list is announced, Call is not only in, but will be taught by the best of the teachers (which earns Call scorn by some of the students who wanted that position for themselves).  At his father's encouragement, Call works to get expelled, but slowly, and certainly not unexpectedly, he comes to like where he is and the other students he is learning with.  As the school year progresses, Call finds a letter from his father to his teacher, encouraging the teacher to 'bind' his magic so that Call will never be able to perform magic.  Call also meets an older student who many believe may be the fulfillment of a prophecy.   And the appearance of a dreaded evil sets a number of things in motion that promise a whole series of books.
It took me a little bit to get involved in the story.  The premise of trying NOT to get in to the school didn't work well for me.  I understood what it was trying to set up, but I think I understood that within the first few paragraphs, and so it dragged on.  It seemed pretty clear that Callum would be in the school or there probably wouldn't be a book, and so to spend much time on this was counter-productive.
I very much liked the style in which the students (at least those in Call's group) were taught.  This somehow felt more 'real' to me for magic, rather than sitting in classrooms the way our students do.  Call's ability to strike out on his own and even steal a few things from his teacher's room never felt too believable, and the confrontation with the evil character(s) didn't quite build to the climax that it should have and was a little too easily resolved.
And yet …
And yet I was completely in to the book.  The characters, and the situations they were in, felt completely believable and likeable, and these two components will carry a book (and a series) a long way.  I DO want to know what happens to Call, given some of the information he's received and the choices he has to make.  I'd like to know what magic he'll learn in his second year, and how his friends will support (or turn on) him.
We know that I am not a fan of books that don't have endings … books that are so clearly pieces of a larger story that you have to read more books in order to get the conclusion.  We'll see some of that here, of course, since this is the first book in the Magisterium series.  But the book does a good job of wrapping up the internal story while keeping the door open for more books with an overarching story.  Yes, there are a few too many questions left unanswered to be a solid, stand-alone book.
In the meantime, I'm hooked and I want to read more.
Looking for a good book?  Book 1 in the new Magisterium series, The Iron Trial, by Holly Black and Cassandra Clare, begins a fantasy series you won't want to miss, and brings a new school of magic that you will want to attend.
* * * * * *
The Iron Trial
authors: Holly Black and Cassandra Clare
series: Magisterium #1
publisher: Doubleday Children's Books
ISBN: 0857532502
hardcover, 295 pages