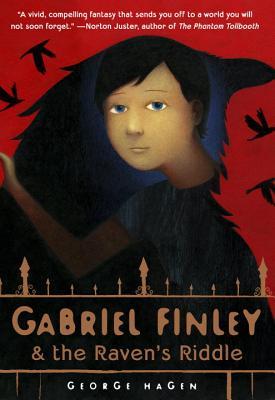 I was really excited to read this book … enough so that I bumped it way up on my reading schedule … but am disappointed in the outcome.  This book feels like a very one-note story that grew a bit tedious.
The story:  Twelve-year-old Gabriel Finley's father has been missing for a number of years and Gabriel now lives with his aunt.  On his twelfth birthday, Gabriel discovers that he has a magical bond with a raven, Paladin, and he has the ability to talk with ravens.  It is said that his father also possessed unique abilities.  With the help of his raven Paladin, his wacky neighbor Abby, and the live-in house-guest Pamela, Gabriel must travel to the secret underground city of Aviapolis to confront his evil uncle and rescue his father.
There's a very nice touch of Norse mythology here with Huginn and Muninn (Odin's ravens) spurring on the initial mystery that Gabriel becomes embroiled in.  Unfortunately, other than establishing a premise, this is nothing more than a nod to the Norse mythology, rather than an integral part of the story.
There is very little character development and no character growth.  The story climax comes with Gabriel making an important decision but it does not build to suggest that this is a turning point or moment of character growth.  He is a twelve-year-old for whom the idea of special abilities and magic seem very second nature.  Abby and Pamela are slightly more interesting than Gabriel.  Abby is a fairly stereotypical 'wacky' character, comfortable with being different and more open to variety and the unusual.  For her, this journey seems a natural progression.  Pamela is slightly more interesting in that she comes from a home with a very domineering mother.  For her the challenge is to step outside of the normal and do something unusual and unexpected.  This is conflict, and conflict is what creates interesting stories.  Unfortunately, her conflict is a minor portion of the story.
Author George Hagen seems to struggle with what sort of story this is to be.  It appears that he would like to create a wonderful fantasy world, but is uncomfortable leaving behind what he knows.  We test the magical waters with the fun, walking desk, and the first time Gabriel learns that he can communicate with the ravens, but then we even out and the 'magic' goes away.
I mentioned at the top that this felt like a one-note story, and that note is riddles.  Being clever with asking and answering riddles is nothing new to readers.  J.R.R. Tolkien does it in The Hobbit.  But I felt like we were constantly being reminded how clever Hagen is with all his riddles (though at the same time, none of these riddles appeared to be new).  I'd much rather read an exciting story than a story filled with clever riddles.
The book leaves a wide open door for a sequel.  While I'm not particularly keen on this book, I can see the potential in the sequel.  Deeper, stronger characters will go a long way in helping make the sequel a stronger book.
This book is written for the teen/pre-teen reader and I fear that most will struggle with maintaining an interest.
Looking for a good book?  Gabriel Finley and the Raven's Riddle is a predictable, slow-moving fantasy that needs some stronger characters to make the story more interesting.
* * * * * *
Gabriel Finley and the Raven's Riddle
author: George Hagen
publisher: Schwartz & Wade
ISBN: 0385371039
hardcover, 384 pages