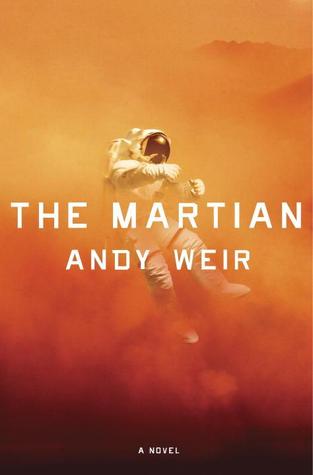 It is going to be hard for me to pick a 'best book of the year' with all the quality books I've managed to read of late.  This will definitely be in the running!
Astronaut/botanist/engineer Mark Watley is stranded on Mars when a mission is aborted and Watley is (believably) presumed dead.  Thus begins a page-turning book of Man vs Nature in an incredibly hostile environment
Astronaut Watley begins a journal to log his thoughts and plans for future missions to learn his true fate.  Immediately the journal takes on a personal tone, rather than a dry, scientific narrative.  Watley's alternating between his desire to give up and his perceptions that there might be a way to survive, are completely believable.  I'm not an engineer, physicist, or botanist, but the science in the book (and there is a great deal of it) reads very plausibly.  Given the nature of many science fiction readers, I suspect that if there were errors they would quickly be pointed out and ridiculed.
Before you think it must be incredibly boring to read about a lone man trying to survive on Mars, know that author Andy Weir does give us glimpses of NASA, Mission Control, and even the rest of Watley's crew on their return trip to Earth.  Weir expertly balances the scenes, giving us mostly Watley and his efforts, then giving us a glimpse of Watley through the eyes of NASA.  And while the supporting roles are just that, supporting, Weir gives them all personalities.
One of the main attractions to the book is Watney's personality.  He's a little bit irreverant.  He isn't the stereotypical boring scientist personality.  He jokes and makes off-beat 1970's references (for a reason that will be evident when you read the book).  For the purposes of this story, it all works.  Alone on an alien world, with zero percent chance of survival or rescue, allowing irreverent personality shine through feels entirely natural.  It actually had me laugh out loud at one point, which I very rarely ever do while reading.
The only downside to the book is that most of the personalities display the same sense of humor.  It's fun.  Most people will enjoy it.  But when the astronauts aboard the return ship display the same sense of humor and some very lowly NASA officials 'talk back' in a similar vein of humor, it's fun at the time, but when thinking back on it, we realize that they are all mostly the same.  It certainly makes me like author Andy Weir, as I assume this is his personality shining through.
There's nothing too unexpected happening here, at least in terms of potential plot twists.  Watley is alone against Mars and time and the plot twists are the obstacles Mars throws at him.  There are times we know that something bad will happen (even astronaut Watley comments on this) and it's simply a case of waiting to see what it is and then what ingenuity will get him out of it.  This ingenuity is as much a part of the fun of the book as Watney's character.  For all the engineering and careful checking, re-checking, and checking again we do with our engineering, things will still go wrong and survival depends on our being able to think outside the box (to use a tired phrase).  NASA is a leader in this ingenuity and author Weir, through Watley, shows us a little of this.
I've taken a quick look at the reviews on this book, and they are meteoric.  It's a great book, but how is it that so many people see it so similarly?  I think the answer is in the book itself.  It is hopeful.  It reveals the best of mankind — that indominable never-say-die spirit and the coming together in the case of a disaster, and at the same time, it is fun.
I truly did not want to put this book down.  I would steal minutes from my day in order to read just a little bit more.  I actually read one chapter in my car in the grocery store parking lot, and I immediately ordered a hardcover copy to give to my children.  It is that kind of book.
Looking for a good book?  This is it.  The Martian, by Andy Weir, is a science fiction novel, filled with science, fun, and hope that will have you eager to turn the pages to see how it will end.
* * * * * *
The Martian
author: Andy Weir
publisher: Crown
ISBN: 0804139024
hardcover, 369 pages