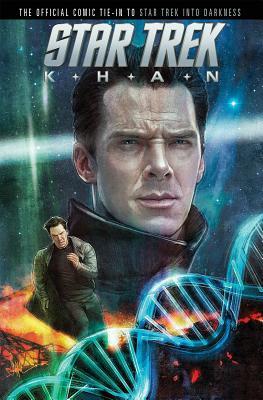 **WARNING: SPOILER ALERT — SPOILERS WITHIN THIS REVIEW**
You've seen the Star Trek: Into Darkness movie (if you haven't, I can't imagine any reason you would want to buy a Star Trek graphic novel)  and whether you're a Trek fan or not, by now you must know that the 'villain' in the movie is the rebooted 'Khan.'  It's Star Trek, so you also know that Kirk and Spock are going to save the day and probably come out ready for the next movie.  But what happens to Khan Noonien Singh?  Ah…to answer that, you need to pick up this graphic novel as it chronicles Khan's trial, which manages to chronicle Khan's past.
Star Trek is big business and all the books and all the comics give the fans the opportunity to live in the Star Trek universe nearly at will.  I know…I'm such a fan.  And a graphic novel like this makes use of the opportunity to explore a little deeper some of the issues that the episodes and movies touch on.  For instance… What happened after Khan was caught?  What was to become of Khan.  And the most important question of all: why is Khan Noonien Singh a white man?
There isn't much to this graphic novel.  It manages to fill 124 pages, but the story is bland (unless, I suppose, you are a huge Khan or Benedict Cumberbatch fan — I am neither).  The most interesting part of this is the trial itself, but we don't get much of the trial … we instead get Khan's story.  And even this could be interesting (am I the only person fascinated by the idea that Khan and his 'family' "assumed control of" the forty most advanced nations in the world and yet there is a "scarcity of information" from the period (beginning in 1992)).  Perhaps there are Eugenics Wars novels set in the Star Trek universe — I most certainly have not kept up with all the ST novels — and while I'm not a fan of the Khan character, the idea of the Eugenics Wars is most certainly intriguing.
And while this book didn't do much for me, based on Khan's story, it did end very appropriately, acknowledging that because there's a lack of verifiable information, everything Khan has related could be self-serving, or simply fiction on Khan's part.  That's just the sort of twist I like.  It seems very appropriate in this Star Trek universe.  Unfortunately, it takes 124 pages to get there.
The art by Claudia Balboni is appropriate.  It is realistic and the characters are identifiable, and she's chosen some interesting, almost unique angles in some panels.
Looking for a good book?  This Star Trek graphic novel picks up at the end of Star Trek: Into Darkness and gives a little more background to the villain.  It's sure to be of interest to dedicated Trek fans, but likely won't appeal to many others.
* * * * * *
Star Trek: Khan
author: Mike Johnson
artist: Claudia Balboni
publisher: Diamond Comic Distributors
ISBN: 1613778953
paperback, 124 pages